As the placard will tell you, Commodore Isaac McKeever, 1791-1856, had a long and distinguished career in the U.S. Navy.
Commodore McKeever's father, Captain James McKeever was a wealthy Scotsman who emigrated to Philadelphia just before the Revolution. James McKeever was one of the first people to come up with the idea of using steam to power and navigate boats. He even dragged his teenaged son Isaac along on a raft filled with machinery down the Allegheny and Ohio rivers in an attempt to engineer such a feat. The experiment failed (and he was ridiculed), but he kept working on this idea for pretty much the rest of his life.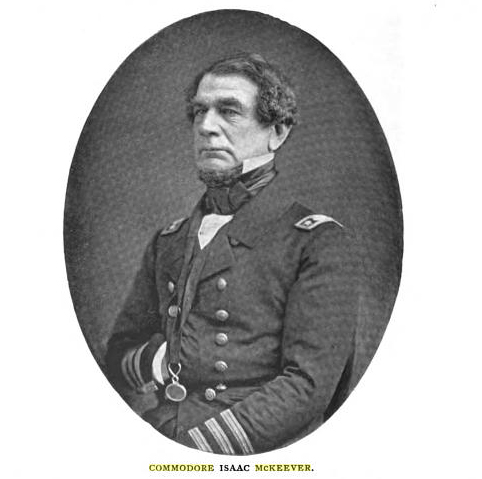 Isaac McKeever joined the navy in 1809 (at 18 years old) as a midshipman. By the time the War of 1812 broke out, he had become a Lieutenant. In 1814, McKeever was commanding a gunboat on Lake Borgne in Louisiana, when the British forces attacked.
From the Military Hall of Honor:
The [U.S.] gunboats mounted collectively 23 guns, and were manned by 182 men. The British expedition consisted of 42 large barges and other boats, manned by over 1,000 seamen and marines. The engagement, which was very severe, lasted more than three hours, and over 200 of the British were killed and wounded. Lieutenant McKeever's vessel was the last one attacked, and he was severely wounded, together with most of his officers, before he surrendered.
During his 47-year career in the navy, he was promoted through the ranks from Commander to Captain, and finally Commodore in 1850. A mere 4 years before he died, he commanded the flagship Constitution, a.k.a., "Old Ironsides" down in Brazil, and helped to maintain peace while revolution was threatening Buenos Aires (and that is making a very long story short).
Old Ironsides is still around. It's now a museum boat, docked in Boston: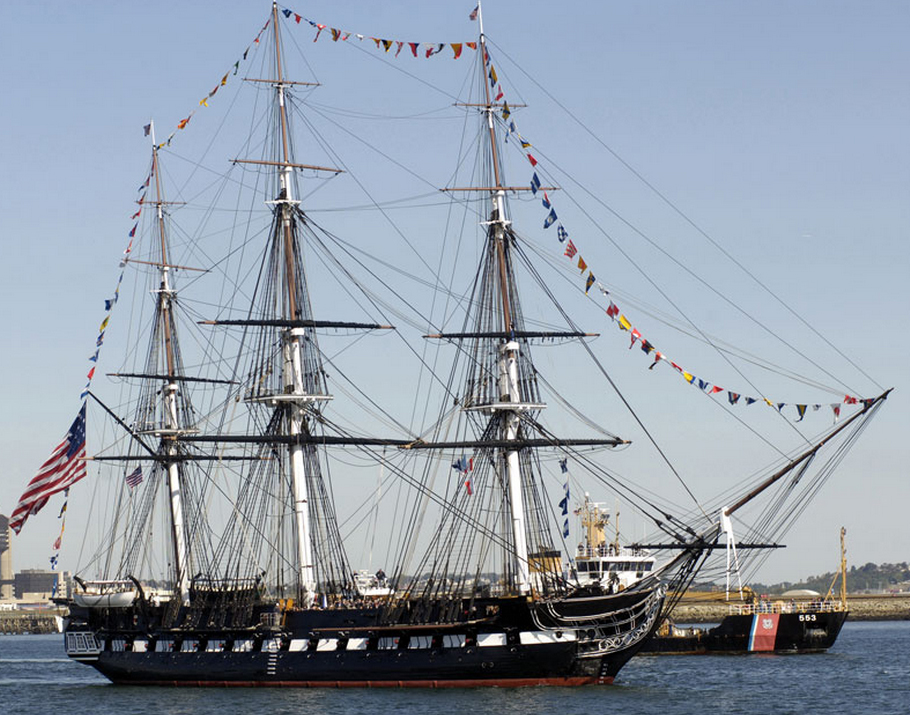 It's worth noting that Commodore McKeever's second wife was Mary Thomson, daughter of the famous Captain Thomas Thomson.
He died at the Norfolk, Va., Navy Yard, in 1856. From The Heroes of the American Revolution and Their Descendants, by Henry Whittemore:
In 1855 he had charge of the navy yard at Norfolk Va when a pestilence broke out in that city and the adjoining towns which terrified the people of the whole southern country. Commodore McKeever was authorized by the navy department to suspend operations in the yard for a time should he see fit but he decided to remain in order that work might be given to those who depended upon it for support of their families. His reply to the department was, "The post of danger is the post of honor." His death was attributed directly to his overtasked energies during this terrible period.