I've had several people tell me that it's difficult to find the grave of artist Jean-Michel Basquiat. I honestly think the main problem is reading that damned tiny map they give you at the entrance! It's not hard to find–it is about a ten-minute walk from the Fort Hamilton entrance to Green-Wood.
So here you have it, a larger map showing exactly how to get to it: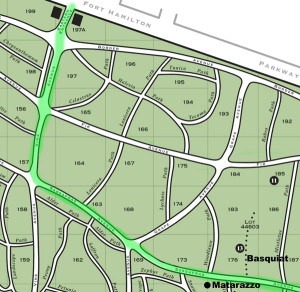 It's very simple–enter at Fort Hamilton, and walk straight ahead down Vine. Turn left on Sassafras. Keep walking past the intersection of Grape Avenue a ways, and look on your left for a big bank of hostas in front of a long line of short headstones, set back-to-back. Basquiat is about halfway up, on the left.
You can't miss it once you get this far. Basquiat's grave has probably the most interesting collection of memorial items in the cemetery. (I counted at least 3 lip balms–is that some kind of inside joke, or did the poor man always have chapped lips?)
For those who don't know, Jean-Michel Basquiat (1960-1988) was a fairly famous New York artist. He rose to notoriety in the 1980s as part of "SAMO" ("Same Old Shit"), a graffiti group on the Lower East Side.
One of the items left nearby says "SAMO IS ALIVE":

Beyond graffiti, Basquiat was also a clothing designer, musician, and of course a painter. When he was a mere 19 years old, he met Andy Warhol. The two became close friends, and collaborated on over 80 pieces of art at Warhol's infamous Factory.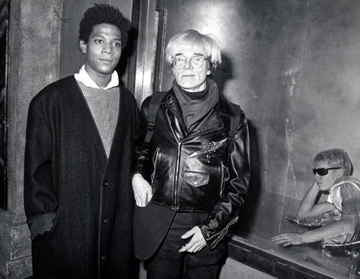 Basquiat battled depression and addiction throughout much of his adult life. After Warhol's death in 1987, Basquiat grew increasingly depressed and isolated. He died of a heroin overdose on August 12, 1988.
I could attempt to describe his paintings, but what purpose would that serve? Just take a look at a few for yourself.

By the way, if you ever visit Basquiat's grave, it is worth it to also check out the beautiful sculpture of St. Michael on Santo Matarazzo's grave, just across the street (see map).