This is one of the benefits of wandering around aimlessly in Green-Wood. This beautiful and modern-looking monument is well off the beaten path, almost hidden in a grove of trees and behind a bunch of other large stones. I doubt I would have ever seen it from the road.
Turns out, I didn't have to dig too deeply to find out the story behind this intriguing statue of St. Michael. Santo Matarazzo was well-known in my old neighborhood, Carroll Gardens. Emigrating from Sicily to Brooklyn in the early 1950s, he was a key player in the revitalization of "Brownstone Brooklyn". In fact, Matarazzo's contribution to renovating classic brownstones was so impressive that he became known as "Mr. Brownstone" around the neighborhood.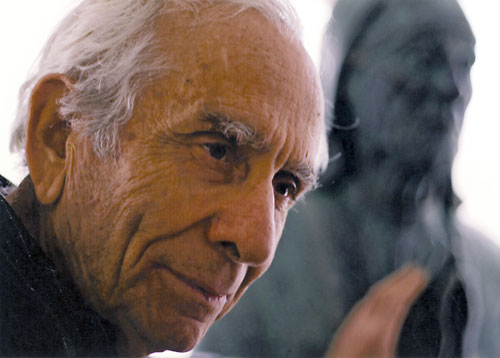 I didn't know Santo Matarazzo, but I bet he frequented one of the local Social Clubs. Carroll Gardens has a rich tradition of Italian Social Clubs; they're essentially clubs for elderly Italian immigrants where they play cards, drink beer, and watch football. One of the biggest is called the "Van Westerhout Cittadini Molesi" (no one ever refers to it by name), and it's at the corner of Court and 2nd Place. I would talk to those guys all the time when I used to walk by there on my way to my studio. Sometimes they would give me scotch! They always had a friendly word. (Here's a good article about them in the South Brooklyn Post.)
I like to think that Santo Matarazzo was hanging out there. But who knows, maybe not. What the hell do I know.
After renovating Brownstones for the better part of his life, he turned his attention to sculpture in his final years. He created numerous statues and busts, and even exhibited his work at the Smithsonian in Washington.
From The Brooklyn Paper's description of the Matarazzo's home:
Nearly every available space is occupied by his art. The walls remain full of his paintings, which include a self-portrait, a picture of Jesus, and a Sicilian seascape dated 1952 — a reference, Lucia Matarazzo said, of the year her husband left his homeland.
Other plaster sculptures honored famous or historical figures such as Martin Luther King Jr., Bill Clinton, Muhammad Ali, and, most recently, Barack Obama, the presidential candidate for whom Matarazzo intended to vote.
Matarazzo also contributed this sculpture of William Floyd to the community square in Mastic Beach, Long Island, where his family had their second home: