William Holbrook Beard was a 19th Century artist whose work mostly involves animals acting like humans. In particular, he is known for his paintings of bears–which explains this monument.
I had never heard of Beard before. I don't know why he is not more well-known. These paintings are insane. I am going to have to buy a book of his work–I could look at these forever.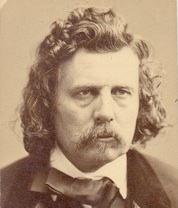 From the National Museum of Wildlife Art's site:
Beard became an immensely popular animal painter, and he painted a large variety of animals, favoring rabbits, cats, monkeys, squirrels, and especially bears. Both lauded and criticized for his humorous satires, he often substituted animals for humans in his visual social commentary. He represented the condition of man and universal concerns by painting allegorical and fantasy subjects. He also produced work drawn from high and low literature, depicting characteristics of jealousy, pride, drunkenness, and greed.
Beard, an Ohio native, studied in Italy, Germany, and Switzerland before moving to New York City in 1857. He opened a studio in what was known as the Tenth Street Studio Building–this was one of the first all-artist studio buildings in New York City, and was instrumental in making Greenwich Village the center of the NYC art world for pretty much the next century. William Merritt Chase and Winslow Homer also had studios in that building.
He wrote a book called "Humor in Animals" in 1885.
The bear sculpture is by Dan Ostermiller, a renowned American sculptor, and recent president of the National Sculpture Society. Ostermiller does a lot of sculptures of bears and other wildlife, making him the perfect choice for this monument.